Getting Help
X-Particles is a complex plugin and there are a number of resources to help you use it. These include:
Context-sensitive help
Many objects in X-Particles have context-sensitive help enabled. That is, if you right-click on a parameter in an object, and choose 'Show Help...' from the menu: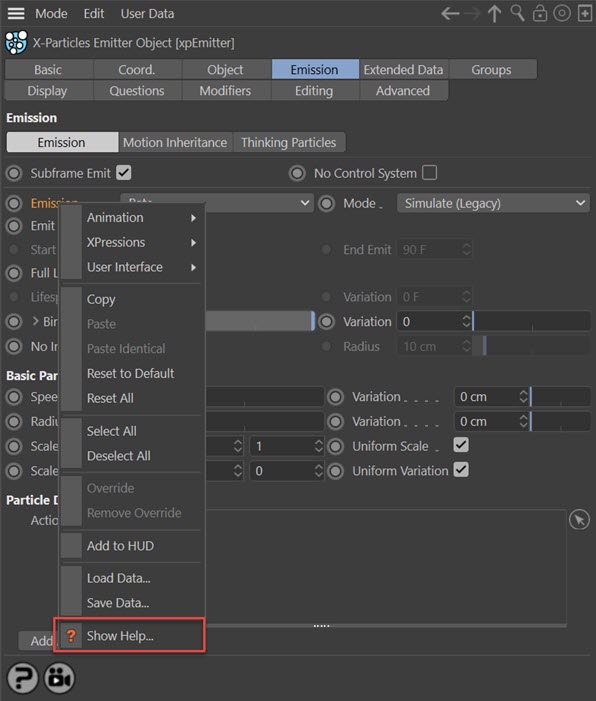 You will then be taken to the correct point in the online reference manual page for that object. This is much quicker than opening the manual and looking through pages to find the information you need.
Please note that for technical reasons beyond our control context-sensitive help does not work for all objects. Notably, it does not work for buttons in the interface.
The Reference Manual
The page you are reading is part of the reference documentation for X-Particles and this manual should be your first call when you have a query.
Searching the manual
You can search the manual by typing your search query into the quick search box at the top-right of any page and clicking the magnifying glass button. This will take you to a results page with links to all pages which find your search term.
Alternatively, click the 'Advanced Search' link below the quick search box which will take you to a more advanced screen. This also has information on how to search the manual effectively.
The Video Manual
Registered users of X-Particles also have access to the video manual, which has an explanatory video for each object. You can find this on the main X-Particles website.
The online Community Forum and Discord channel
We have a dedicated forum for the users of X-Particles and Cycles 4D where you should ask the type of questions such as 'How do I do something?'. That is likely to get you the best answer since experienced users of Cycles 4D often visit the forum, or alternatively you can use our Discord channel.
Please note that support issues or queries regarding purchase or licensing issues will NOT be answered in the public forum or Discord channel. For such queries please contact the support team - see below.
The forum is located at https://community.insydium.online/.
We have an active Discord channel for Insydium products, but to reiterate, this is not intended for official support from INSYDIUM. Please go to our Discord channel for more information.
Email Support
If you have a technical support query, queries regarding your purchase or problems with your licence, please contact our support team by raising a support ticket at the Insydium website. You will need your X-Particles licence to access this service.